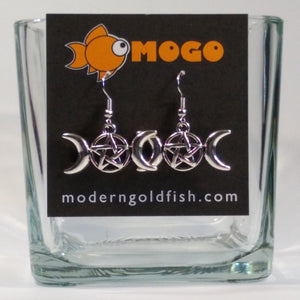 Triple Goddess with Pentacle Earrings
Cultural connection: The Triple Goddess is a symbol that represents much to many. For Kenna, it is the Maiden, the Mother, and the Crone - the ultimate symbol of femininity. Three phases of the moon are represented: waxing, full, and waning. In these charms, the pentacle, a symbol of the balance of the five elements (fire, earth, water, air, and spirit) are found in the center of the full moon. 
Surgical steel ear wires
Antique silver charms
Price includes shipping.
---
We Also Recommend
---